BLACKPINK's emotion-driven concert at Gocheok Dome: YG measures carbon emissions, a first in Korea
On September 16th and 17th, BLACKPINK successfully concluded their 'BLACKPINK WORLD TOUR BORN PINK FINALE IN SEOUL' at Gocheok Sky Dome in Seoul. Both concerts, with a capacity of 35,000 seats, were completely sold out. With this achievement, BLACKPINK set a new K-pop girl group world tour record with 34 cities, 66 performances, and an audience of 1.8 million worldwide.
The finale of this journey was marked by intense excitement. BLACKPINK took the stage amid explosive cheers, delivering performances of songs like 'Pink Venom,' 'How You Like That,' and 'Pretty Savage,' raising the venue's energy to its peak. They continued with a medley of mega-hit songs and solo stages that showcased each member's unique talents.
BLACKPINK's status as a global artist shone through their performances, characterized by their charismatic presence, unwavering vocals, captivating raps, and seasoned stage manners honed through their world tour. The audience responded with passionate sing-alongs, cheers, and waves of pink lightsticks.
The concert's impeccable production, which encapsulated the essence of the tour, also captured the hearts of the audience. The theme of the show was elevated through dynamic dance performances, live sessions by top-tier bands, and various special effects, including LED graphics, lasers, fireworks, and flame columns that adorned both the stage and the audience area.
The stage settings, which incorporated the beauty of Korea, added a special touch. The newly designed hanok-style set, crafted with great care, delighted the eyes with its changing colors. Special moments, such as Jisoo's solo stage 'Flower' and dance performances like 'Typa Girl' with fans and feather fans, added to the excitement.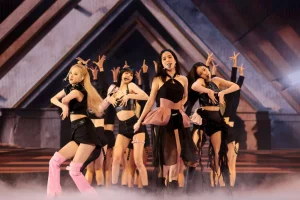 Reflecting on their journey, BLACKPINK shared memorable moments with the audience. They expressed their happiness at starting in Seoul and ending with a finale in Seoul a year later. They also conveyed their gratitude to BLINKs (their fandom), emphasizing the enduring connection between BLACKPINK and their fans.
According to YG Entertainment, this concert was planned as a sustainable performance, considering its environmental and social impact. It featured the first-ever measurement of carbon emissions for a solo concert in Korea and deployed accessibility managers for wheelchair-bound attendees, marking a first for a Korean entertainment company. YG plans to continue efforts to enhance the sustainability of its future concerts.
The Gocheok Dome concert can be watched again through delayed streaming on Weverse Concert on September 24th at 12 PM (KST), with further details available on YG's official website and Weverse.