A new step into Hollywood through "The Marvels": Director Nia DaCosta unveils the thrilling "The Marvels" journey
By: Nat.O

3 weeks ago

994
Celebrating the marvelous: Director Nia DaCosta unveils the thrilling "The Marvels" journey
In an online press conference held on the morning of the 7th, director Nia DaCosta of "The Marvels" shared various stories about the film.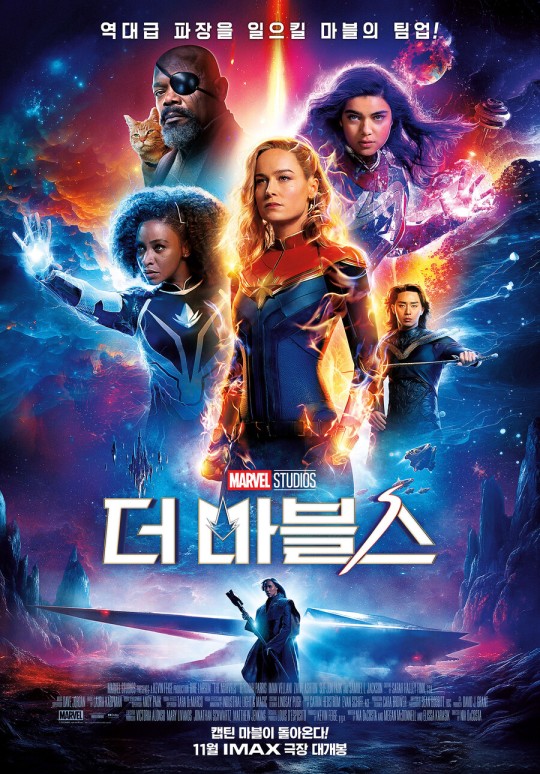 "The Marvels" is a superhero action blockbuster where Captain Marvel "Carol Danvers" finds herself in a crisis where her location changes when using her abilities, leading to unexpected teamwork with "Monica Rambo" and "Miss Marvel Kamala Khan," who help protect the universe.
Nia DaCosta, who joined the MCU for the first time with "The Marvels" and is known as a fan of Marvel comics, expressed her thoughts about joining the project, saying, "I couldn't believe it. I was so excited to be able to work in my beloved universe." She emphasized that all the stories are intertwined, and the focus was on concluding the journey of these characters in the film.

Regarding the differences from other Marvel movies, she mentioned, "This movie already had a unique material. I added my vision and uniqueness to it, focusing on action and emotions. I aimed to maximize this dynamic," highlighting her efforts to elevate the project to its fullest potential.
Nia DaCosta, known as a fan of Korean content, mentioned her love for Korean dramas, movies, and K-pop genres from her childhood. She expressed her love for Korean entertainment, and particularly, her fondness for comedian Yoo Jae-suk. She also mentioned enjoying Korean dramas such as "My Lovely Sam-soon," "On Air," and "Coffee Prince."
In "The Marvels," Korean actor Park Seo-joon has gained attention for his role as Yan Prince, marking his entrance into the MCU. DaCosta revealed the casting process, saying, "When COVID was at its peak, a friend recommended I watch the drama 'Itaewon Class,' and Park Seo-joon caught my eye. A few months later, an offer came in for the movie, and I thought Park Seo-joon was perfect for the role of Yan Prince."
DaCosta praised Park Seo-joon for his talent, positive energy, and the enjoyable atmosphere he brought to the set. She emphasized that although Yan Prince's screen time might be short, he plays an important role in the film, creating high expectations.
Explaining Yan Prince's role, she hinted, "I can't reveal too much information. It wouldn't be fun if you already knew everything. Yan Prince serves as a ruler and has a deep history with Captain Marvel. He is a cool character, and they have something in common in terms of who they want to protect, which creates common ground between them." She also playfully avoided discussing the potential for a Yan Prince sequel by saying, "Only Kevin Feige PD, who is the lord of the MCU, knows."
In "The Marvels," in addition to "Captain Marvel," characters like "Monica Rambo" and "Miss Marvel" are introduced.
DaCosta explained, "It's the second installment of "Captain Marvel," but it's the first time Monica Rambo and Miss Marvel are introduced as adult characters. While following Captain Marvel's journey, it was important to fully explore and tell the stories of these two different characters who become entangled in her world." She added that they made efforts to differentiate the action style in combat scenes since the characters have different personalities, backgrounds, and powers.
Alaridna, the planet where Captain Marvel meets Yan Prince, communicates through dance and song. Nia DaCosta mentioned her enthusiasm for incorporating these elements into the film and creating a joyous atmosphere.
She said, "It was very fun to use singing and dancing in the film. There's even a scene where Captain Marvel and Yan Prince dance together. I'm a fan of musicals, so I added that element. I enjoyed working on this film, and I'm looking forward to how you will enjoy it."
The Korean release date of "The Marvels" is November 8th, which also happens to be Nia DaCosta's birthday. She expressed her appreciation for the support and hoped that the film would be a birthday gift for the audience. She concluded by wishing everyone a delightful viewing experience.
"The Marvels" is set to be released on November 8th.