'God of Business Trip Communication: Seo Jin's Edition': Seo Jin's unexpected outburst
By: Nat.O

2 months ago

179
Seojin's Outburst Sets the Tone for a Hilarious Unification Meeting Challenge in 'God of Business Trip Communication: Seo Jin's Edition'
On the upcoming episode of tvN's 'God of Business Trip Communication: Seo Jin's Edition,' which airs on the 12th, Lee Seojin will express his displeasure and frustration only after 5 hours of shooting.
During this episode, the '1st Seojin's Unification Meeting,' which seems to be somewhere between a unification meeting and a split leadership, will unfold. In particular, amidst ongoing confrontations, CEO Lee Seojin voices his complaint, saying, "If you are going to disband the teams, why even have a unification meeting?" This is expected to bring laughter to the show.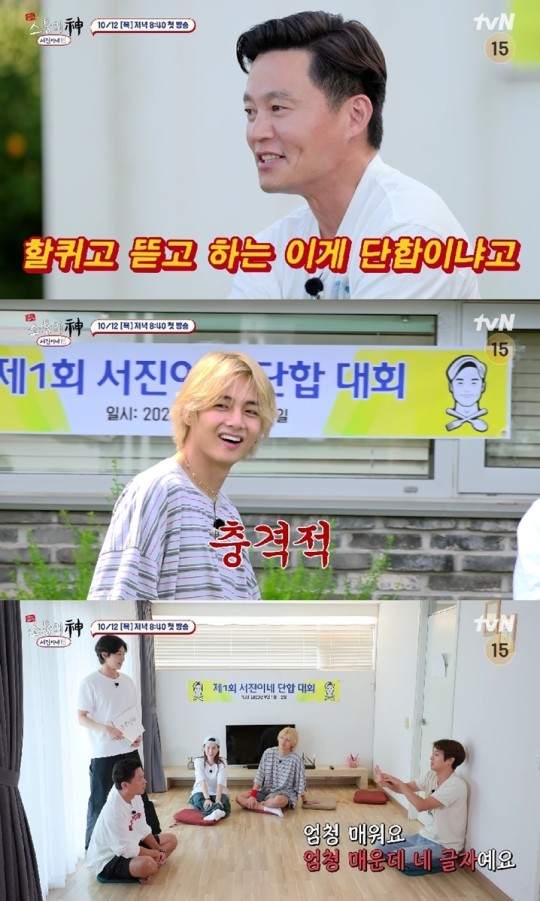 In this episode, the 'Interns' team, consisting of Lee Seojin, Director Jung Yumi, and Manager Park Seojun, will compete against the 'InternZ' team, which includes the experienced intern Choi Wooshik and BTS's V, in a lunch race involving charcoal grilled chicken galbi. Lee Seojin's first reaction is described as absurd as soon as the confrontation structure between the two teams is confirmed.
Additionally, intern Choi Wooshik, who is in a permanent position, nonchalantly includes himself with the executive team while charmingly teases, causing laughter. In response to this, V says, "Are there already conflicts within the team?"
Lee Seojin is already sensing discord within the 'InternZ' team even before the start of the game, raising expectations on whether the 'InternZ' team, which has shown the signs of a crack, will be able to complete the race successfully.
Furthermore, the lunch race, where the team must arrive at the destination first and complete the mission, begins with a signal quiz where all team members must answer correctly in order to start. The competition and the various wrong answers add excitement to the race.
Also, the episode captures Lee Seojin expressing his sincere gratitude to Jung Yumi, piquing curiosity about the context of the scene.
'God of Business Trip Communication: Seo Jin's Edition' is a communication delivery service where communication expert Director Na Youngseok, who has just taken his first steps, personally goes to any place where communication is needed. It first aired on October 12th at 8:40 PM (KST) on tvN.