"Kong Kong Pat Pat": Kim Woo-bin's politeness and charming charm
Kim Woo-bin, the Discovery of 'Charming Charm' on "Kong Kong Pat Pat"
Entertainer Kim Woo-bin has captivated viewers with his new charm on the cable channel tvN's variety show "Kong Kong Pat Pat", where he challenges himself in farming alongside close friends. Known for his limited appearances on variety shows and minimal exposure outside of movies and dramas, Kim Woo-bin's participation in a fixed variety show is a refreshing change.
The show, which premiered on the 13th of last month, features Kim Woo-bin, Kim Ki-bang, Lee Kwang-soo, and Do Kyung-soo as they take on the challenge of farming together as part of Na Young-seok's team. Despite Kim Woo-bin's lack of experience in variety shows, he seamlessly blends in with his friends, bringing out a natural and unpretentious side of himself.
"Kong Kong Pat Pat" gained anticipation not only for the reunion of the four close friends but also for Kim Woo-bin's first venture into a fixed variety show.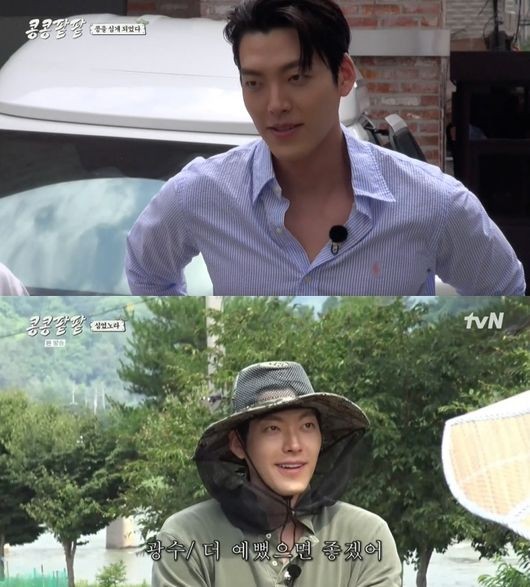 From the first shoot, Kim Woo-bin drew attention with his fashionable appearance, wearing a shirt and styling his hair with pomade. His friends, however, playfully teased him for being overly dressed, considering their main task in the show is farming.
Nonetheless, Kim Woo-bin remained unfazed. Throughout subsequent shoots, he showcased his model-like fashion sense, appearing like a photoshoot or advertisement. Kim Woo-bin emphasized the importance of showing respect to the viewers with his fashion choices.
On the other hand, Do Kyung-soo, opting for comfortable shorts and a short-sleeved T-shirt, humorously contrasted with Kim Woo-bin's stylish look.
Moreover, Kim Woo-bin displayed a somewhat serious side when he suggested selling the homegrown perilla leaves directly to customers. He began writing a post to sell the crops on a used goods market, demonstrating his genuine affection for the cultivated plants. Additionally, he showed a tender side by expressing special fondness for Do Kyung-soo, the youngest among the four.
Despite being relatively new to the variety show scene, Kim Woo-bin blended in effortlessly on "Kong Kong Pat Pat". His comfort in being with close friends translated into a more novel and appealing image for viewers, making his appearance on the show a delightful discovery.