The Fact Music Awards 2023: Lim Young-woong, a hero of the night, triumphs with 5 awards
By: Nat.O

2 months ago

104
Lim Young-woong: A night's hero triumphs with 5 awards at 'The Fact Music Awards'"
On October 10, the '2023 The Fact Music Awards' (TMA) took place at Incheon Namdong Gymnasium, where Lim Young-woong won five awards.
Lim Young-woong was also present at the event, and he was honored with a total of five awards, including the 'Fan & Star Most Votes Award Solo,' 'Fan & Star Choice Award Solo,' 'Fan & Star Best Ads. Award,' 'TMA Best Music (Winter),' and 'Artist of the Year Award.'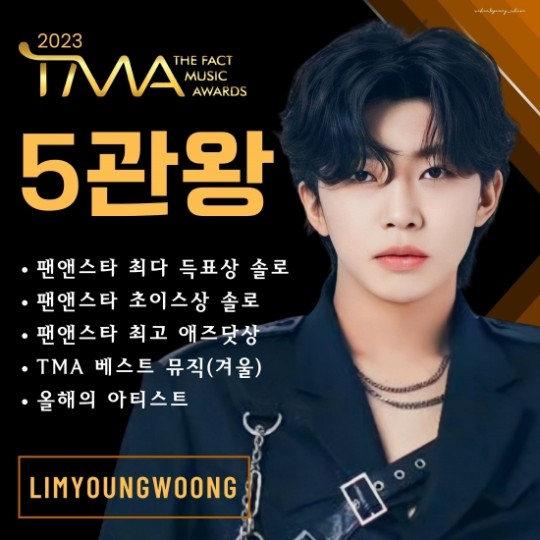 These awards are a testament to his exceptional popularity.
In addition, Lim Young-woong will hold the 2023 nationwide concert tour 'IM HERO' starting in Seoul and then moving to other cities like Daegu, Busan, Daejeon, and Gwangju.
The Seoul performances will take place at KSPO DOME on October 27, 28, 29, and November 3, 4, 5. Following that, the Daegu concert will be held at Daegu EXCO East Building on November 24, 25, and 26.
The Busan concert will be hosted at BEXCO Exhibition Hall 1 and 2 on December 8, 9, and 10.
The Daejeon concert will take place at Daejeon Convention Center Exhibition Hall 2 on December 29, 30, and 31. Furthermore, the Gwangju concert will be held at Kim Dae-jung Convention Center on January 5, 6, and 7, 2024.