Park Bo-gum and Chungha lead the way in 2023's MAMA with big hits that will shake Tokyo Dome
MAMA Awards, hosted by CJ ENM, will announce K-pop's presence at the 'Holy Land of Japanese Performances' Tokyo Dome this year.
The MAMA Awards began as the Mnet Video Music Awards in 1999. Starting in 2009, it was rebranded as MAMA and has been held in overseas locations such as Macao, Singapore, Hong Kong, Vietnam, and Japan, following in the years after. In 2017 (Vietnam, Japan, Hong Kong) and 2018 (Korea, Japan, Hong Kong), the event was held in three different countries. During the COVID-19 pandemic, the event was held online in South Korea.
This year, the event will return to Japan, following last year's event. It will be held at the Tokyo Dome for two days from the 28th to the 29th. This is the first time a South Korean mainstream music award show will take place at the Tokyo Dome. Previously, the 'MAMA Awards' was held in Japan at Nagoya Dome and Kyocera Dome Osaka. With the addition of Tokyo Dome this year, the event will have covered all three major domes in Japan.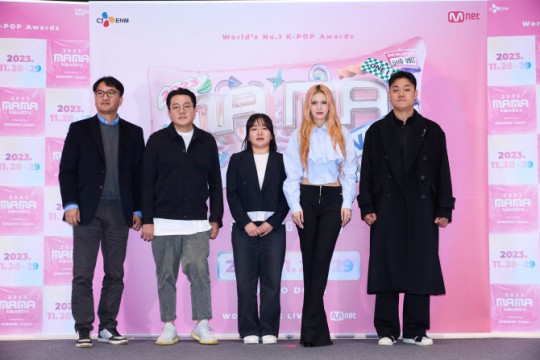 Park Chan-wook, the head of Mnet, said at a media day event held in Gangnam-gu, Seoul on the 8th, "Japan is the second-largest music market in the world, and Tokyo Dome is the best among Japan's three domes." He stated the significance of choosing the venue.

He added, "As it is a large-scale venue, we are preparing a stage with an unprecedented scale. We are planning to make the performances enjoyable by broadcasting a wide-scale stage on the screen using Spider Wire Cams used in football games."

The overall concept of the awards ceremony is 'ONE I BORN.' Park Chan-wook explained, "It symbolizes the coming together of the one (I) who is a single existence with infinite possibilities and 'MAMA' through positive energy, becoming a perfect 'ONE.'"
The hosts for the awards show will be actor Park Bo-gum and singer Chungha, just like last year. Chungha will lead Chapter 1, which features the 'Worldwide Fans Choice' segment where awards are given based on fan votes, while Park Bo-gum will host Chapter 2, featuring awards in major categories based on digital music, albums, and evaluation data.
Chungha, who will be hosting for the second year in a row, expressed her excitement, saying, "The 'MAMA Awards' is a dream-like stage and the ultimate destination for all artists."

She continued, "I was moved when I hosted the show for the first time last year. I'm happy to host it again this year, and I'm living each day with the thought that I have to do better than last year. I will show a more relaxed side this year, so please look forward to it."

Chungha also mentioned her performance as a Mega Stage performer, saying, "I'm planning to present a large-scale tectonic stage that contains my history. I'm worried that the Tokyo Dome might shake."
CJ ENM previously revealed the first-lineup, confirming the participation of ATEEZ, INI, JO1, NiziU, Riize, TVXQ, Xikers, and ZEROBASEONE. The second lineup included groups such as &TEAM, BOY NEXT DOOR, ELSEUP, ENHYPEN, (G)I-DLE, KEP1ER, LE SSERAFIM, SEVENTEEN, TOMORROW X TOGETHER, and dancers from 'Street Woman Fighter 2'.
The recently revealed third lineup includes artists like Dynamic Duo, Jessi, Lee Young Ji, MONICA, and TREASURE. Director Park Chan-wook stated, "We aimed to primarily invite artists who demonstrated outstanding performances throughout the year," adding, "We considered not only music and album data but also trends and influence as criteria for inviting artists who can effectively convey their messages on stage."
Regarding the possibility of adding artists who had outstanding activities this year, such as BTS's Jungkook, Stray Kids, and New JEANs, he said, "(Regarding the appearance of these artists) we are discussing it. When it is decided, I will provide additional information. It's difficult to say at the moment."
Yoshiki, the leader and drummer of the legendary Japanese band X Japan, will be a featured global artist at the MAMA Awards. Lee Sun-hyung, the head of the convention content planning team, emphasized, "Yoshiki is an artist who sold more than 30 million albums worldwide and filled Tokyo Dome 18 times," saying that he will perform a collaboration stage with Korean artists on X Japan's mega-hit song 'Endless Love'.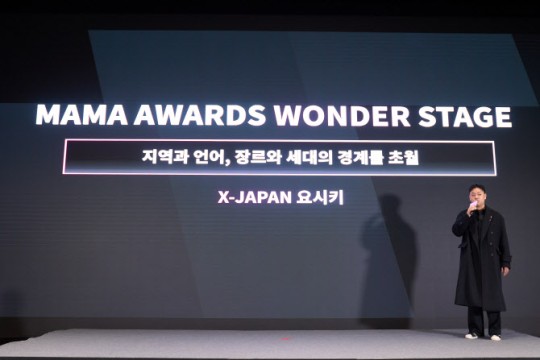 The 'MAMA Awards' will be broadcast live through music channels Mnet, YouTube channel Mnet K-POP, Mnet TV, KCON official, and M2. Samsung Galaxy will be the title sponsor. Performers for the event include Lee Young Ji, LE SSERAFIM, ZEROBASEONE, TREASURE, and more. A variety of stages, including performances by Heo Yoon Jin of LE SSERAFIM, KEPLER's XIAOTING, (G)I-DLE's Minnie, MONICA, BADA, and more, are expected.
Director Park Chan-wook looked back on the challenges the 'MAMA Awards' have faced, saying, "When we said we would hold the awards show in Macao in 2010, everyone tried to stop us, but we chose to challenge ourselves with the determination to break through our limits in order to make K-pop known to the world."

He added, "K-pop's global popularity has grown to the point where young fans in Saudi Arabia greet in Korean, so we have a greater mission and will make an effort to prepare for the awards ceremony." He also mentioned that the event is steadily being planned for local hosting in the United States.