Triumphant achievement: NewJeans' mega hit 'ETA' surpasses 100 million streams on Spotify and dominates Billboard Charts
By: Nat.O

2 months ago

224
NewJeans' mega hit 'ETA' surpasses 100 million streams on Spotify and shines on Billboard Charts
As of October 9th, the song 'ETA' has garnered over 100,750,533 streams on Spotify. This achievement marks the ninth song from NewJeans to reach the billion-stream milestone and happened within 80 days of the song's release on July 21st.
'ETA' is known for its powerful and fast-paced beats combined with Favela Funk elements, creating an enjoyable and catchy track. The friendly lyrics and NewJeans' unique emotional melody rap make the song quite impressive. Upon its release, 'ETA' quickly gained popularity, alternating with another title track from the same mini-album, 'Super Shy,' and claimed the top two spots on major domestic music streaming site charts.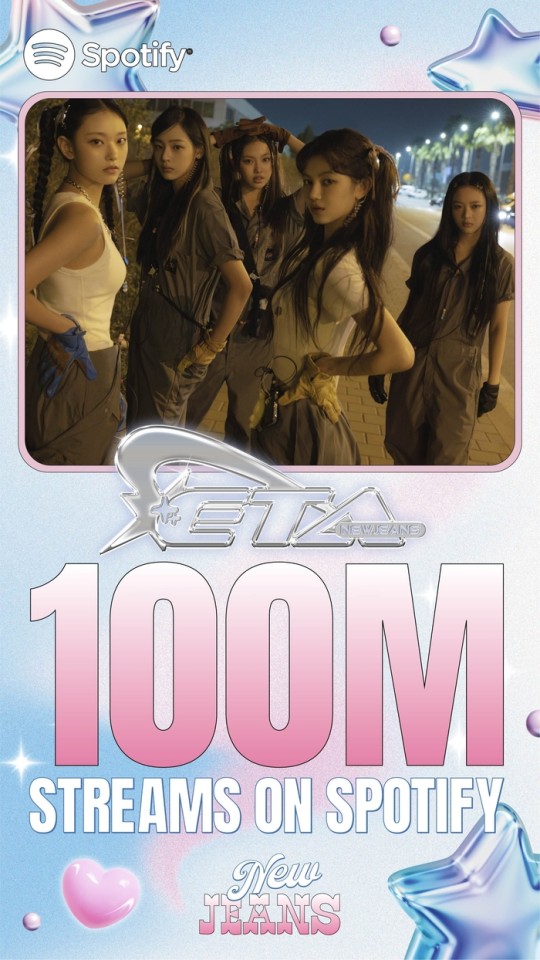 'ETA' also entered the U.S. Billboard Hot 100 chart, reaching 81st place on August 5th, and it has been charting for 11 consecutive weeks on the Billboard Global 200 and Global Excl. U.S. charts, showing its continued popularity on the global music scene.
All six songs from the mini-album 'Get Up' have been performing well on Spotify. 'Super Shy' has accumulated over 200 million streams, and New Jeans has surpassed 100 million streams on the platform. In total, the cumulative stream count for 'Get Up' on Spotify is close to 700 million.
'Get Up' has been maintaining its popularity on the U.S. Billboard charts. In the latest Billboard charts released on October 10th, it ranked 64th on the Billboard 200 chart. The mini-album has achieved an impressive record of staying on the Billboard 200 chart for 11 consecutive weeks, following its debut at number one on August 5th. The main song 'Super Shy' also maintained its presence in the charts, ranking 26th on the Global (Excl. U.S.) chart and 33rd on the Global 200 chart for 13 consecutive weeks.
NewJeans' success on the Billboard charts is setting a new record, marking the longest period of charting among 4th generation K-pop girl groups.