BTS's J-Hope's exemplary military life, including early promotion and assuming the position of platoon leader, has been revealed through photos.
By: Nat.O

3 weeks ago

1138
Photos of j-hope of BTS were revealed showing his exemplary military life, with early promotion and even the position of squad leader.
Recently, j-hope was also captured in a photo of trainees at The Camp Army's 36th Division recruit training center. j-hope, who is serving as an instructor in the unit, is seen coaching trainees on basic shooting posture while wearing a red hat.
In particular, j-hope attracted attention as he was wearing a corporal rank insignia and squad leader epaulettes on his military uniform in this photo.
He was originally scheduled to be promoted to corporal in January of next year. If he surpasses a certain level in tests such as shooting and first aid, he will obtain a special warrior, and it seems that he became this special warrior and was paid two months early.
Additionally, the green epaulettes on the shoulders of his military uniform are also noticeable. This epaulette is a squad leader's epaulette that leads a squad, and following his early promotion, j-hope also performs the role of squad leader, showing that he is leading an exemplary military life.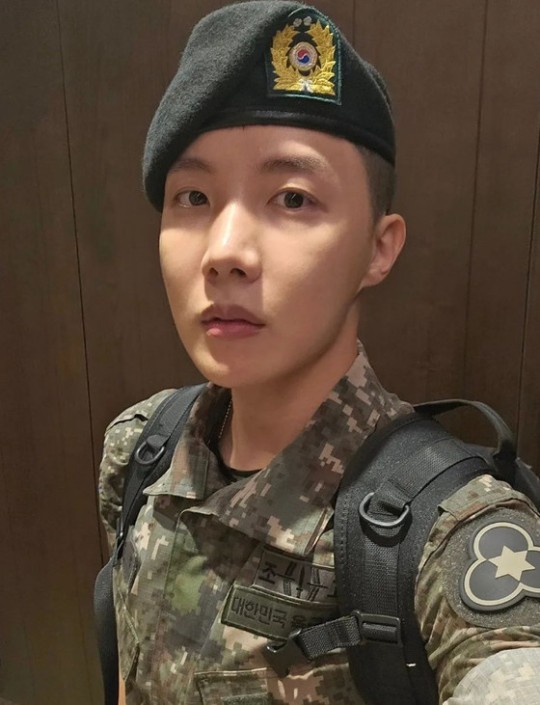 In relation to this, j-hope's agency, Big Hit Music, said to News 1 on the 15th, "Please understand that it will take time to confirm as this is information related to military life."
j-hope enlisted as an active duty soldier on April 18 this year. he is the second member of BTS to enlist and serve in the military, following Jin. He is serving as an assistant instructor at the Army's 36th Infantry Division Recruit Training Center and is scheduled to be discharged on October 17, 2024. Currently, among the seven BTS members, both him and Jin (real name Kim Seok-jin) are serving as army soldiers, and Suga (real name Min Yoon-gi) began alternative service as a social worker on September 22.